Great Blogging icons for your Page
All of you Bloggers out there are looking for the latest and best in Social Media Icons , and since I am a Web Addicted Junkie , I am constantly in search for some of the coolest and unique Web Related Content. Well, lets start this off with this set of really great Social Icons , created by a really innovative guy Bruno Maia over @ Icon Text Co.. I believe you will find many uses for this cute little set as I am certain it will enhance any Blog page .

The set is labeled Blog Blogs and the zip file contains 3 folders which come in the following formats : Ico, Png & Icons. The size of the Icons themselves range from : 16px, 32px, 42px, 128px, & 256px. and there are 4 Icons in each set .

Here is an example of a 256-x-256 px User Icon :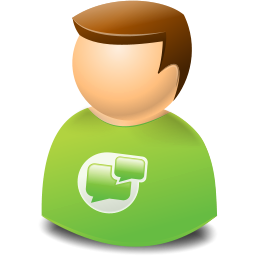 These are the 48-x-48px version of all of the icons included in this file :




Now what these Icons denote : They are Chat or Comment icons which you may like to place within your CSS & HTML source page to display User Comment Authors instead of having the Blogger Logo being displayed or no logo but a blank gif image which is really boring . Therefore if you care to go a little deeper and customize your template to display a comment avatar instead of blank gif images then you will find a great use for these icons . Customizing your template requires a little bit of effort on one's part , however : it's all worth it in the end I believe . Your page says a lot about you . You can find out how to customize this feature ( adding avatars for your comment authors ) on Blogger Buster . Amanda will walk you through the process step-by-step , so you can pick these up & upload them to your Image Host Provider , and then head on over to Blogger Buster for the installation Process of the Avatars on your page. You will be so much happier you did :)


You can Get these Icons Below





Hope you have enjoyed this article and your new Icons . Stay tuned , more great icons are coming up in the next post . If you would like more of these Icons , please do visit Bruno Maia @ Icon Text Co. . He has some more of these type of Icons which are truly awesome . Enjoy & see you back here for the next Download !